Updated March 2001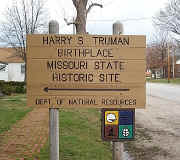 In 1852 the Ward and Parry families arrived in Lamar on their way to Jackson County from Louisiana. George Ward became ill and the families had to stop while he recovered. For the 10 days they were in Lamar they grew fond of the area and decided to abandon their trip to California and make this their home. George Ward built a saw mill, general store and blacksmith shop just off the square. Three years later Ward successfully lobbied to set aside the area from what was then Jasper County. He was successful. He named the county Barton in honor of David Barton, one of the first two United States Senators from Missouri. From its agrarian beginning, Barton County has remained a major agricultural area. It was known in the early years as a major supply center for prairie hay harvested from a vast acreage of prairie land. With the use of limestone, Barton County has become a leading grain producing county in the state. Lamar, Missouri, the Barton County seat, is distinguished as the birthplace of Harry S. Truman, 33rd President of the United States. Mr. Truman's house still stands as a landmark and is open to the public 7 days a week.

Lamar is a four-time grand prize winner in the Missouri Community Betterment competition. Osage Indians gave up their claims to their 1908 and 1925 land cessions. In the Missouri-Kansas Border War (1854-1859) lawless bands ranged the county in the Civil War terror and disorder characterized the region. Quantrill and his guerrilla band raided and burned Lamar, occupied by Union troops in 1862. The town was again burned by raiders in 1864. Almost depopulated at the war's close, Lamar and Barton County slowly recovered. Lamar was incorporated in 1870 and was named by Mrs. George E. Ward in honor of President Mirabeau Lamar of the Republic of Texas.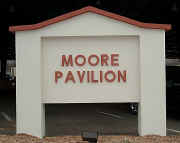 Lamar is small, but in name only. It is home to 5 banks, 2 motels, 2 grocery stores, a movie theater, drive-in, and a 6,000 square foot aquatic park including a 2,000 square foot indoor pool.. Lamar also has a beautiful 55 acre park with a huge playground, 7 shelter houses, 8 baseball diamonds and lighted tennis and basketball courts. You will also find a 1 mile walking trail with fitness stops every 1/4 mile.
Lamar is also known for local lawman Wyatt Earp. Wyatt Earp's first job was as the city's local constable in 1870. He also married his first wife Uriall here. She is buried in East Cemetery just 1 mile east of the Square.
In 2000 the US Census reported Lamar as having 4,425 people. There are 2 big factories in Lamar; O'Sullivan Industries, founded in 1954 is the world's leading manufacturer in ready to assemble furniture and employ over 1,400 people. Thorco Industries, the smaller of the 2 factories, employs almost 500 people and started out in a barn in 1899.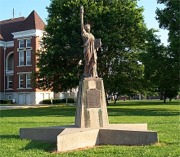 The focal point of Lamar remains the City Square, the second largest in Missouri. The oldest item in our courtyard is the Civil war cannon dedicated in 1910 The bandstand was built in 1913. In 1950 the 17 foot Statue of Liberty replica was dedicated as a gift to the Barton County citizens, by the Barton County school children. In 1975, a Harry S Truman Memorial was erected where Mr. Truman delivered his vice-presidential acceptance speech on August 31, 1944. The first brick building on the Lamar Square was built in 1870 on the northwest corner. Other buildings on the square were built in the late 1880's to early 1900's. In its heyday Lamar's Plaza Theatre showcased celebrities such as Gene Autry and Smiley Burnett. The theatre opened October 25,1934, and was owned by the late A.J. Simmons. Simmons' connection with several Hollywood producers brought several big name entertainers to the theatre's stage. But in 1986, the movie house closed its doors for the last time and the stage was empty for years. In April 1993, plans were underway for the Theater to be torn down. Lamar's Betty Kuhn gathered a select group of individuals at City Hall and explained her intentions - to save the Plaza Theatre. She felt it was an asset to the community and should not be destroyed. With tax breaks, generous donations, fund raisers and countless hours of volunteer work the Plaza has been returned to its glory days.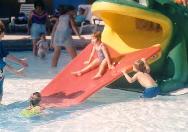 In 1995 Lamar constructed a new Aquatic Park. The Leisure Pool features 5600 square feet of zero grade entry, a 150-foot spiral slide, frog slide, floating alligator, floating raft, lily pads, sky shooter, raindrop toadstools, a large umbrella for adults and their little ones. Lounge chairs surround the deck. The Competition, or lap pool features 3200 square feet, six 25 meter lap lanes, water volleyball, water basketball and water polo. The Natatorium, or indoor facility, features 3500 square feet with two 25 meter lap lanes, water aerobics and water therapy classes. Other features are a large bathhouse, which includes a concession area, showers and lockers.

Lamar has a biweekly newspaper, the Lamar Democrat, published twice a week. We also have a local radio station, Star 101 FM. Cable TV is provided by COX Communications. They offer 49 channels including a new digital cable system. Telephone service is provided by Southwestern Bell.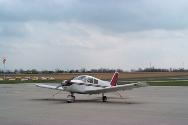 Golf is available at Lamar's semi-private Country Club. The course is nine hole's with golf car rental available. There is a club house that serves meals during the Spring and Summer.
If you feel like flying into Lamar, there is a municipal airport just 1/2 mile west of Lamar. It is home to 19 hangars and 21 aircraft. The longest of the 2 runaways is 2,910 ft. On average 10 aircraft takeoff and land on any given day.
The Lamar R-1 School District has a AAA rating, the highest rating awarded in the State of Missouri. Presently the school is involved in the A Plus Program. This program was designed by the State of Missouri from select schools. A new school was built in 1999 for grades K-2. It is just east of town on Highway 160.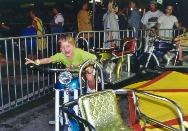 Lamar has a free Fair every August It is billed as the largest free fair in Missouri. Events include a large carnival with adult and children's rides, livestock shows, Kiddy and Rotary Parades, car shows, dances and the annual Lamar Queen contest.
Lamar doesn't have a taxi service but does have the TATS (Truman Area Transportation Service). It provides rides to any citizen who needs one. Hours are 6:30 a.m. to 5:30 p.m. Monday through Friday. Rides are free to senior citizens and handicapped. Medical rides are furnished county wide and require a 24 hour notice.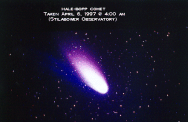 The Stilabower Public Observatory is one of only four community owned observatories in the United States It is open to the public on Tuesday, Thursday, and Saturday nights. There is no charge to use this facility. The observatory has a 14 inch telescope and computerized tracking and digital imaging system. The observatory is accessible to both the handicapped and children of all ages. The picture of the Hale-Bopp comet on the left was taken from there in 1997.

Lamar is also home to the 260 acre Lamar City Lake. The lake offers 3 docks for fishing as well as several tables for enjoying a nice, quiet picnic. There are also slides and swings for the kids to play on. There is also a large, covered boat slip.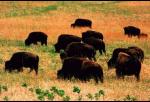 The Prairie State Park preserves the largest remaining tall grass prairie in Missouri. The 3,542-acre park protects a variety of native prairie grasses and distinctive prairie animals, including prairie chickens and bison. Prairie State Park's three hiking trails are designed to help visitors appreciate the vastness, solitude, and beauty of the prairie. Picnicking, hiking, exploring the visitor center, and observing wildlife are among activities featured here. Limited camping for groups can be arranged by contacting the park naturalist. The park also offers visitors a chance to see firsthand a variety of changing wildflower displays, animal life, and spectacular panoramic views. The park is located west of Lamar from U.S. 160 off Missouri Highway 43, on Highway P from Highway K.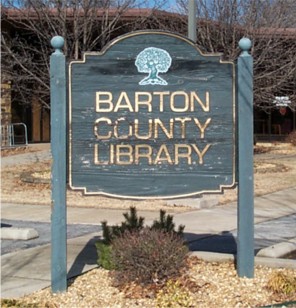 There are three libraries in Barton County (Lamar, Liberal, and Golden City). They offer a comprehensive array of services -- most services are free -- a few are very low cost. These include: Large Print Books, Audio books, Magazines and Newspapers, Video Tapes, Copy Machine, Fax Machine, Genealogy Research Material, Typewriter, Microfilm-fiche Reader/Printer. In addition to these services the library's website offers much more material including a "virtual card catalog", news, weather and a comprehensive array of links to reference sites. Soon they will be linked to over 5,000 ebooks. These can be viewed in the library, or after setting up an account from the library be accessed from your own Internet computer.




*Information gathered from a variety of sources including
the Joplin Globe and the Barton County Chamber